Garage Door Spring Repair San Diego
There are a few things in your home that must work as planned everyday to make your home livable and secure for you and your family. Components like, pluming system, space heater, water heater, doors and door locks must be maintained to avoid emergency inconvenience which can severely interrupt your daily life. Any of these parts fail and you are in big distress to get it repaired as soon as possible.
Your garage door is one of the important parts of your house. Failing garage door makes it harder to open and close, and also it is less safe to operate.
A modern overhead garage door opening mechanism is combined of many moving parts and pieces. When it works as designed, you can open and close your garage door with one hand or if you have remote opener – it takes just one click.
Most Common garage door problems are broken cable or broken spring of the lift opening mechanism. We have step by step guide how to replace torsion spring yourself.
Garage door springs come in different sizes, lengths and strength. Depending on the model of the door, the mounting and the tension of the spring may vary. Just by looking at your garage door springs you can tell if it is a zinc galvanized spring (shiny metallic looking spring) or it is oil tempered spring (black spring). Both of these spring types are interchangeable and you can replace one with the other type. Oil tempered garage door springs has longer service term and last longer.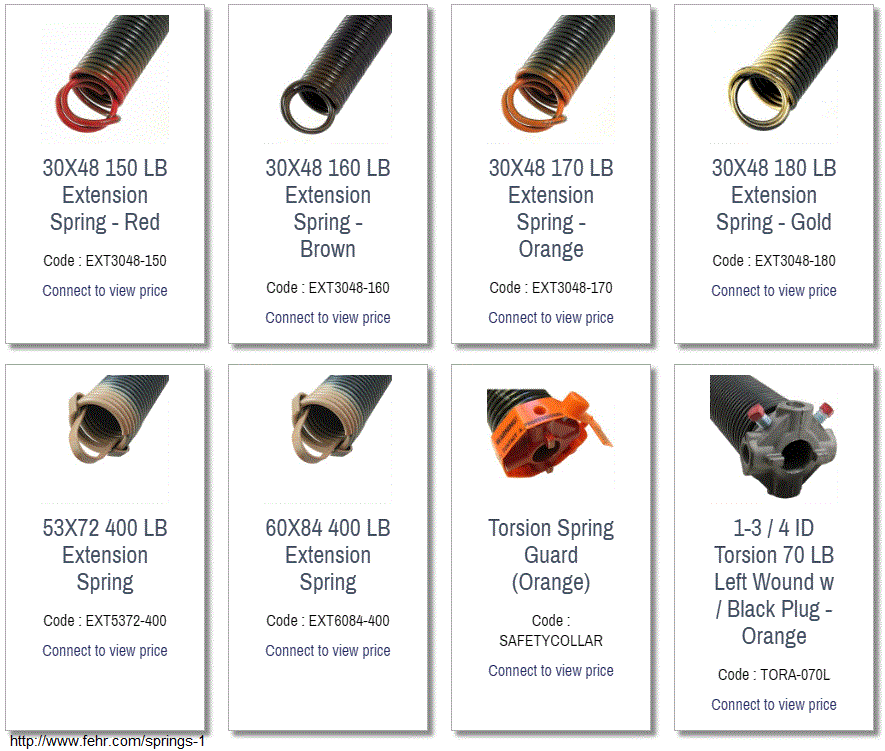 Spring replacement is not difficult job and some home owners will take on to repair their garage door themselves. When you decide to tackle this broken spring problem yourself here are some tips to make replacing garage door spring go well. First of all make sure you have all the tools necessary for your project. You will need a pair of "C" clamps, pliers or vice grips, crescent wrench, a mallet, tape measure, a screw driver.
Garage door spring repair San Diego will come out and replace your broken springs with new high quality springs. We will inspect your garage door and all moving parts to guarantee the operation and functionality of your door is in order. Complimentary garage door safety inspection gives you and your family a peace of mind and prevents from any inconveniences in near future.
If you hear or notice some different noises or vibrations when opening or shutting your garage door, don't hesitate and call garage door Repair Company in San Diego. Putting off door repairs you are increasing risk of damaging your vehicles or putting your own safety in danger.

Torsion Spring Replacement San Diego
How to replace broken torsion spring tutorial